Mount Kilimanjaro attracts a vast crowd, with nearly 35,000 people trying to reach its peak yearly. Such popularity can make the paths busy and lessen the magic of the climb. Our guide on How to Avoid Crowds on Kilimanjaro is a must-read for a peaceful ascent. Get top tips for your Mount Kilimanjaro Climbing adventure and savour the journey without the bustling crowds.
CONTENTS
1- Booking a Private Climb on Kilimanjaro
2- Climbing Mount Kilimanjaro in the Short Rainy Season
3-Choosing a Less Crowded Route on Mount Kilimanjaro
4- Opting for Quieter Campsites on Mount Kilimanjaro
5-Mount Kilimanjaro's Peak Seasons and Crowd Trends
6- Picking the Right Time to Climb Kilimanjaro
Booking a Private Climb on Kilimanjaro
Choosing a private trek is a great way to ensure a less crowded experience on Kilimanjaro. By opting for a personal tour, you dodge the masses and enjoy a tailored trip. With Tanzania Tribe Safaris,your Kilimanjaro Private Climbswill become even more special.
Tailored Experience- Our expertly curated Climbing Mount Kilimanjaro Packages experts help design your perfect journey to Africa's majestic peak.
Personalized Team: Every climber gets support from 2-3 porters, chefs, and expert guides.
Controlled Pace:Private climbs help you decide when to start, how quickly to move, and when to rest.
Special Note:Starting your Kilimanjaro Climb before the usual 8 AM can help you avoid most climbers and enjoy a more solitary trek.
Climbing Mount Kilimanjaro in the Short Rainy Season
If you're keen on an adventurous trek, consider Climbing Kilimanjaro during the short rainy season. Unlike the popular dry seasons from July to October and December to February, this season offers a unique experience.
The short rainy season falls between the dry and wet periods, typically in November. During this time, the mountain sees fewer climbers, allowing hikers to enjoy Kilimanjaro without the crowds.
At Tanzania Tribe Safari, we offer treks during these lesser-travelled times, the rainy season. Mornings often start clear, with rain appearing in the afternoons and evenings. Speedy hikers might even reach their campsite before any downpour begins.
Special Note:The Rongai Route Kilimanjaro is recommended for those considering a climb during the rainy season, as it tends to receive less rain than other paths.
Choosing a Less Crowded Route on Mount Kilimanjaro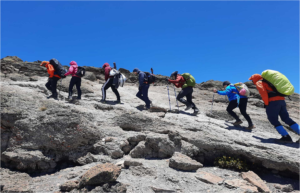 Every year, Mount Kilimanjaro sees over 35,000 climbers. Most choose the Machame and Marangu Route, making them the busiest.
For a quieter, more serene experience, opting for a less popular Kilimanjaro Climbing Routes is a good idea. This ensures fewer fellow climbers on the trails and at the campsites, especially in lower elevations.
These alternative paths are well-maintained and offer an equally enriching. The examples of these Kilimanjaro Routesare Lemosho, Shira, Umbwe, and Rongai Route.
Finally, when deciding on a route, it's essential to consider your hiking experience and how well you handle higher altitudes.
Special Note:For those looking for quieter, established routes, Lemosho and Rongai are our top recommendations.
Opting for Quieter Campsites on Mount Kilimanjaro
On Mount Kilimanjaro, specific campsites tend to be busier. If you aim for a quieter experience, consider selecting alternative Kilimanjaro Tent Campsalong with your chosen route. For instance:
Instead of Shira 2, go for The Moir Hut.
Pick Kosovo Camp over the Barafu Hut.
Choose Millenium Camp instead of the Mweka Camp, or consider a night at the Crater camp post-summit.
Special Note:Remember, campsites like Kosovo and Crater Camp require special permits, meaning there are extra fees. It's essential to plan and secure these permits well in advance if you intend to stay at these locations.
Summiting Kilimanjaro Without the Full Moon
Many climbers prefer summiting Kilimanjaro during a full moon. The moonlight offers them clear visibility, especially during the final night climb.
Additionally, the moonlight reflecting off the glaciers offers a mesmerizing view, leading to these tours getting booked out.
To avoid a packed trail, consider planning your summit away from the full moon days.Please browse through our Mount Kilimanjaro Packagesoffering Kilimanjaro Full Moon Climb.
Special Note:Starting your ascent in the middle of the week can help you dodge the crowd, as many groups usually begin their journey on weekends or Mondays.
Mount Kilimanjaro's Peak Seasons and Crowd Trends
Tanzania's Mount Kilimanjaro attracts many climbers, especially during the full moon and from January to early March and June to October. Of these months, June through October are the busiest time of year on Kilimanjaro.
These months are popular due to the clear skies, incredible vistas, and sunny weather, making them the Best Time To Climb Kilimanjaro.
However, it's essential to remember that the weather can be unpredictable, so it's crucial to be equipped with the right gear.
Check out our Kilimanjaro Gear List for a comprehensive checklist to ensure you're fully prepared for your climb.
Picking the Right Time to Climb Kilimanjaro
The Best Time to Climb Kilimanjaro for many is during the sunny months of June to October. However, this popular window also means encountering more crowds on the trails.
To have a peaceful and memorableMount Kilimanjaro Climbing trip without crowds, think about going at a quieter time, taking a different route, or choosing a campsite that's not too busy.
Thinking of climbing Kilimanjaro? Talk to Tanzania Tribe Safari. Our Kilimanjaro specialists are here to help you plan a great trip!